Ads: Birds
Listed below are Birds items for you to car boot sale online here that you will find available in Southampton.
If you cannot find the Birds items that you are looking for in Southampton you can add your wanted item to let sellers contact you if they have any Birds items available for you. You can keep your contact information confidential. Enter only an email address in your car boot sale ad to receive offers into your account on our system. We will remind you automatically when new offers arrive for you.
To offer your items for sale on this online car boot sale in Southampton simply click Post free ads for Birds link below or the button Post free ad in top right corner of this page. It is fast, easy and free to post an ad in 2lazy2boot. It will take you just few minutes to have the ad seen on our listings. You can then edit your ads any time by clicking "Member area" button on top right corner of this page.

Results found: 1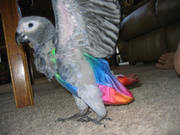 * Black palm cockatoo * African Grey Parrot>>>>
19-04-2012 20:59
Price: 280 GBP £
Our aviary breed healthy, trained and tame parrots ready to go to their new homes, availabilities in our facility and pet shop are high breed trained, tame and talking parrots Age ranging from 1 month old to 15 years.we equally have fertile and candle tested parrot eggs for sale for those who will be interested to hatch out chick, please if interested to buy fertile eggs or parrots contact us for the below varieties for sale: * African Grey Parrot * Amazons * Black palm cockatoo * Blue and gold macaw * Citron cockatoo * Gang gang cockatoo * Goffin cockatoo * Green wing macaw * Harlequin macaw * Hyacinth macaw * Major Mitchell cockatoo * Rose breasted cockatoo * Scarlet macaw * Eclectus * Umbrella Cockatoo *Moluccan Cockatoos *Timneh Greys *Sulphur Crested Cockatoos We post eggs with handling incubator , guide manual and CD for beginners.
Item offered for sale: Birds
in
United Kingdom, Southampton
...
View detailed
...
Results found: 1
Well here you go. Good luck with your on line car boot sale in Southampton. We hope you have some success and find buyers/sellers that you are looking for in Birds .
Don' t forget to comment any successes in selling your Birds items in Southampton to our valuation window and report forum!
We are sure you will find many people in Southampton looking for your Birds.